Zantel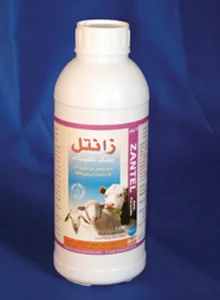 Zantel Oxyclozanide Oral Suspension veterinary. It is an anthelmintic for Calf, Cattle / Cows, Goat, Sheep
Generic Name:
Oxyclozanide
Indications of Zantel (Oxyclozanide Oral Suspension veterinary):
This product contains oxyclozanide which acts at a high concentration in the liver, kidney, and intestine.
It is highly effective against both adult and immature flukes, especially Fasciola hepatica, It is active against different parricides such as tape warm, tape warm segments, Nematodes, amphistomes, Paramphistomes, and amphistomes.
Usage and dosage for Zantel (Oxyclozanide Oral Suspension veterinary):
It is given orally by drench gun:
Sheep and goats:
10ml / 15-30Kg b. w.
25ml for each animal above 30 kg.
Cows and calves:
30ml / 100Kg b. w.
100ml for each animal above 300 kg.
Withdrawal Period:
For meat 14 days .
For milk nil.
Useful Info:
Hepatic fluke, also known as the common viral fluke or sheep viral fluke, (fluke or flatworm) is a type of helminth parasite that infects the livers of various species, including humans, and is transmitted through sheep and cattle to humans in all around the world . The disease engulfed by the trematodes is called fascioliasis or fascioliasis, which is a type of helminthiasis. It has been an important parasite of sheep and cattle for decades and causes significant investment profits. So it was an official subject of scientific files.