Propion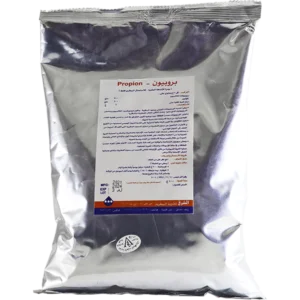 Propion Powder veterinary (Calcium Propionate and Kaolin) for Cattle / Cows

Generic Name:
Calcium propionate + Kaolin
Indications of Propion Powder Veterinary (Calcium Propionate and Kaolin):
* The fungicidal and antibacterial action is due to the partial hydrolysis of propionate in presence of moisture where Ca hydroxide and propionic acid are formed.
* Energy supplier as forms glucose in the blood, and improves feed utilization, digestibility, and feed conversion.
* Kaolin acts as a gastro-intestinal protectant and adsorbent preventing irritation or erosion caused by harmful substances Adsorbs the fungal toxins which might pass through to the digestive tract from the feed.
* Prevention against fungal and bacterial contamination in feed to protect livestock and maintain its normal productivity Enhances weight and production as high and top-quantity as it should be, by improving feed utilization, digestibility, and conversion.
* It is an energy supplier and is used to prevent and treat ketosis (acetonaemia) in cows, cases of enteritis, diarrhea, and other intestinal disturbances.                            Propion controls and eliminates the risk of dangerous diseases resulting from the increased susceptibility to infections, which is consequently caused by the immuno-suppressive effect of fungal toxins.
Usage and dosage for Propion Powder Veterinary (Calcium Propionate and Kaolin):
Feed preservative: 1 kg per ton of feed.
Control of ketosis:(given with ration ):
Treatment: 200 gm per cow twice a day for 10 days.
Prevention: 150 gm per cow daily from 2 Weeks before  Parturition until 6 weeks after parturition
Composition:
Each 1g contains:
| | | |
| --- | --- | --- |
| Calcium propionate | 500 | mg |
| Kaolin | 100 | mg |