Sulphadin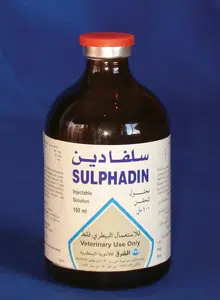 Sulphadin Injection veterinary (Sulfadiazine, Trimethoprim) for Horses, Cattle / Cows, Sheep, Dogs, Cats
Generic Name:
Sulfadiazine + Trimethoprim
Indications of Sulphadin Injection veterinary:
preparation is from sulphonamide compounds active against negative and positive gram bacteria. It may be used by i. m., slow i. v., subcutaneous injection in cases of acute and chronic Bacterial infections also we can use it in respiratory infection, septicemia, intestinal infection, and urogenital tract infection.
Usage and dosage for Sulphadin Injection veterinary:
I.M & slow I.V, S.C  injection :
Horse, cattle, and sheep :1 ml/16 kg b.w.
Dogs and cats :(s.c)   1 ml/8 kg  b.w.
Withdrawal Period:
For milk : 3 days ,for meat : 5 days .
Composition:
Each 1ml contains:
| | | |
| --- | --- | --- |
| Sulfadiazine | 200 | mg |
| Trimethoprim | 40 | mg |