Sulfur oint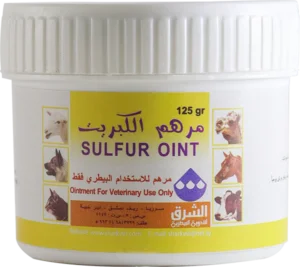 Sulfur Ointment Veterinary (Sulfur, Salicylic acid) for Ruminants, Dogs, Cats
Generic Name:
Sulfur + Salicylic acid
Info:
Scabies disease
Scabies is a skin disease caused by the mange parasite Sarcobic scabie.
Its symptoms are blisters that cause skin irritation and severe itching, and their effect increases at night. They spread in specific places in the body, especially in the forearms, feet, and pelvic area.
Scabies is a contagious disease that transmits quickly and easily, and this feature is used to differentiate between scabies and allergy symptoms.
Active Ingredients
Veterinary sulfur ointment consists mainly of sulfur powder as an effective substance that has the ability to kill the parasite that causes scabies. It also contains salicylic acid (salicylic acid), which reduces the burning effect of sulfur powder on the skin, and also helps to get rid of dead skin caused by the parasite.
Indications of Sulfur Ointment Veterinary:
Fungi infection and itch in all animals
Contraindications:
You should not admin sulfur ointment if there is allergic to sulfur.
Usage and dosage for Sulfur Ointment Veterinary:
The infected place is washed well with warm water then dried and the ointment is applied
Warnings:
Keep away from eyes, mouth, and nose.
For external use only.
Composition:
Each 1g contains:
| | | |
| --- | --- | --- |
| Sulfur | 100 | mg |
| Salicylic acid | 30 | mg |