Rafoxid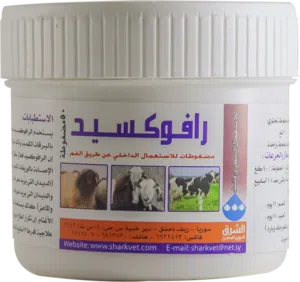 Rafoxid Tablets veterinary (Rafoxanide) for Cattle / Cows, Goat, Sheep
Indications of Rafoxid Tablets veterinary:
This Product is used to treat liver larva in cows, sheep, and goats. it is basically effective to treat liver flukes and gigantism flukes (worms more than 8 weeks old in cattle and worms more than 4 weeks old in sheep and goats)it is also used to treat nasal bots in sheep. 
repeating treatment is necessary during remedial separated times equal 3 weeks to get rid of the adult larva.
Usage and dosage for Rafoxid Tablets veterinary:
1 tab / 40 kg b. w orally. repeat the dose after 4-6 week
Withdrawal Period:
Meat: 28 days -  Milk : 14 days