Mastip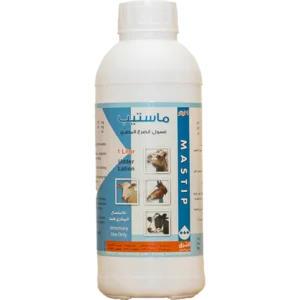 Mastip Liquid Antiseptics veterinary
Mastip Udder washing liquid, Antiseptics veterinary (Active Iodine - Glycerine) for Ruminants

Generic Name:
Active Iodine + Glycerin
Group:
Udder washing liquid
Indications of Mastip Liquid Antiseptics veterinary:
* As antiseptic for teat and for washing the udder generally.
* in milking machines whose program includes whole sanitizing of the teats.
* To avoid teat inflammation.
*Treatment and preventing of teat cracking from mastitis.
*sterilizing the skin of the animal and cleaning the operation table before simple surgeries.
Usage and dosage for Mastip Liquid Antiseptics veterinary:
teat sanitizing:
Dilute one part in 7 parts of water and fill two-thirds of the cup with the solution then immerse the teat in it immediately after milking.

udder washing 
Dilute 20 ml in 10 litter of water and rinse the udder and the teat with the solution before milking.
Composition:
Each 1ml contains:
| | | |
| --- | --- | --- |
| Active Iodine | 20 | mg |
| Glycerin | 50 | mg |