Dexasone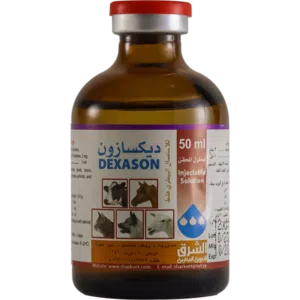 Dexasone Injection veterinary (Dexamethasone sodium phosphate) for Horses, Calf, Cattle / Cows, Sheep, Dogs and Cats
Generic Name:
Dexamethasone sodium phosphate
Packages:
10, 15, 20, 25, 50, 100ml
Indications of Dexasone Injection veterinary:
Acetonemia, shock, stress conditions, poisoning, eczema, arthritis, and dermatitis
Usage and dosage for Dexasone Injection veterinary:
For intramuscular injection, subcutaneous injection & Slow intravenous injection:
Horses & cows: 5-10ml.
Sheep & calves: 2ml 
Dogs & cats: 0,25ml.
(Treatment period is according to vet's advice)
Withdrawal Period:
For milk :3 days 
For meat: 5 days.
Composition:
Each 1ml contains:
| | | |
| --- | --- | --- |
| Dexamethasone sodium phosphate | 2 | mg |