Dama Reveo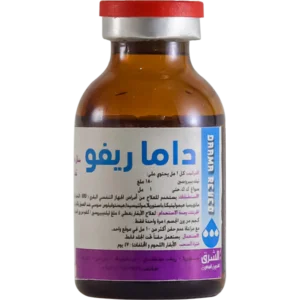 Dama Reveo Injection veterinary
Dama Reveo Injection veterinary (Tildipirosin) one dose treatment for Calf, Cattle / Cows
Generic Name:
Tildipirosin
Indications of Dama Reveo Injection veterinary:
We use Dama Reveo to treat Bovine Respiratory Diseases (BRD) caused by the bacteria Mannheimia haemolytica, Pasteurella multocida, and Histophilus somni in calves and non-dairy cows.
Contraindications:
Do not use it in case of hypersensitivity to antibiotics (macrolide) or to any of the excipients.
 It is not given intravenously or intramuscularly.
Interactions:
There is cross-resistance with other macrolides. 
Not to be given antimicrobials with a similar mode of action as other macrolides or lincosamide.
Side Effects:
Not within the prescribed dosage limits
Usage and dosage for Dama Reveo Injection veterinary:
We can admin Dama Reveo subcutaneous only:
For cows: 4 mg Tildipyrosin / kg body weight (equivalent to 1 ml / 45 kg body weight) This product is applied for one dose treatment only.
* Taking into account not to inject more than 10 ml in one site.
Warring:
Not licensed for use in lactating animals producing milk for human consumption. - Do not use in pregnant animals intended to produce milk for human consumption, within two months of expected birth.
 It May cause allergic reactions through skin contact. In the event of accidental skin exposure, wash the skin immediately with soap and water.
- In the event of ocular exposure, rinse eyes immediately with clean water, and hands should be washed after use.
Withdrawal Period:
Cows: meat: 47 days