Coccy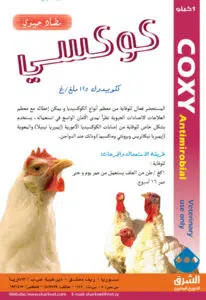 Coccy Powder veterinary (Clopidol) Anticoccidia / coccidiostat for Poultry

Indications of Coccy Powder veterinary:
The product is effective for the prevention of most kinds of coccidia and besides its active role as a growth agent it can be given with most treatments such as antibiotics because of the wide safety range of its usage, it is used especially for the treatment and prevention of cecal and intestinal coccidia in poultry.
Usage and dosage for Coccy Powder veterinary:
Prevention: 1kg/ton of feed and it is used from 1 day age until 16 weeks age.
Withdrawal Period:
7 days.