Al-Nisr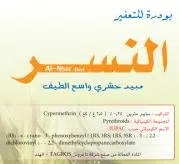 Al-Nisr: Cypermethrin dusting powder. It is used to eliminate biting and sucking insects, and to control fruit and leaf worms on vegetables and field crops.
Generic Name:
Cypermethrin
Group:
pesticides for public health
Indications of Al-Nisr (Cypermethrin dusting powder):
Method of influence:
Al-Nisr affects the biting insects and sucking through the contact and digestion- and is used to combat worms fruit and leaves on the vegetables and fruits- is also used on field crops such as maize- wheat and others as well.
Pre-harvest period: 7 days
Usage and dosage for Al-Nisr (Cypermethrin dusting powder):
- Cereals (wheat and barley)- corn:
Seedling chewing- biting worms- worm culture- grain beetle- the American bollworm- European corn borer leg- by: 3-4 kg acre
- Legumes:
American worm- from clover- flowers- beetle- butterfly peas centuries- beet
Mixing:
When using Al-Nisr: Cypermethrin dusting powder; you can mix it with most insecticides and fungicides in the form of powder for dusting.
Toxicity:
LD50 for rabbits percutaneously more than 2000 mg/kg 
Antitoxin: Not specific antitoxin, treat according to symptoms 
Toxic to fish, bees and birds: Highly toxic to bees, practically non-toxic to birds.