Trisulfa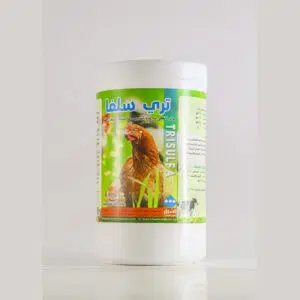 Trisulfa Powder veterinary
Trisulfa Powder veterinary (Sulfadimidine sodium * Sulfadiazine sodium * Sulfatiazole sodium) for Cattle, Cows, Sheep, Poultry
Generic Name:
Sulfadiazine sodium + Sulfathiazole sodium + Sulfadimidine Sodium
Indications of Trisulfa Powder veterinary:
It is used in poultry to treat cecal coccidiosis, chronic colds, and chorizia. It is also used in cattle and sheep to treat lung infections, septicemia, intestinal infections, and bacterial diarrhea.
Contraindications:
Sensitivity to sulfamide compounds.
Kidney inflammation and renal failure
Side Effects:
Long-term use of sulfa compounds causes damage to the intestinal flora, so it is recommended to use it for a short time.
Usage and dosage for Trisulfa Powder veterinary:
To be given in drinking water:
• Poultry: 250 g per 200 liters of water for 3-5 days.
• Cattle and sheep: 10-15 g per 50 kg live weight for 3-5 days.
Withdrawal Period:
Poultry: meat: 5 days; eggs: 2 days
Sheep cows: milk 3 days ; meat 7 days
Composition:
Each 1g contains:
| | | |
| --- | --- | --- |
| Sulfadiazine sodium | 250 | mg |
| Sulfathiazole sodium | 250 | mg |
| Sulfadimidine Sodium | 250 | mg |