Tilmo 25- S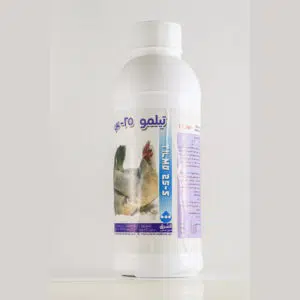 Tilmo 25- S Oral Liquid veterinary
Tilmo 25 S Oral Liquid veterinary (Tilmicosin Phosphate) for Calf, Sheep, Poultry
Generic Name:
Tilmicosin Phosphate
About:
Tilmo 25-S is considered one of the effective formulations against positive bacteria and some negative ones. It also affects kinds of mycoplasma chlamydia and Rectima, it can be absorbed fastly in the body to reach the highest level in plasma within 1-2 hours. It's mostly used as a substitute for penicillin in curing Streptococcus and Staphylococcus.
Indications of Tilmo 25- S Oral Liquid veterinary:
In chicken: to cure infections of the respiratory system, tracheitis, and pneumonitis (pulmonary bronchitis) caused by Mycoplasma, Gualmycoplasma, Saitofi, Pasteurellamultocida, and sensitive bacteria for Tilmicosin.
In calves and Sheep: to cure aspiratory inflictions caused by Mycoplasma and Pasteurella.
Interactions:
Don't use Tilmo 25- S with Lincosamide
Packages:
100, 500, 1000 ml
Usage and dosage for Tilmo 25- S Oral Liquid veterinary:
Oral Solution with drinking water.
chicken: 60ml/200 L of drinking water daily, for 3-5 days.
calves & Sheep: 3 ml/50kg b.w. for3-5 days.
or by the instructions of the veterinarian
Withdrawal Period:
Meat 7 days.
License number:
27/12/2021