Tema-Cycline compound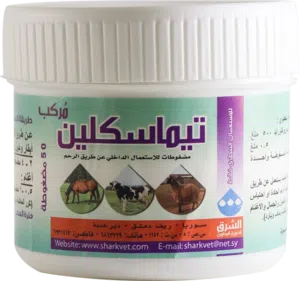 Tema-Cycline compound (Oxytetracycline and Estradiol Tablets veterinary) for Camel, Horses, Cattle, Cows, Sheep
Generic Name:
Oxytetracycline HCl + Estradiol benzoate
Info:
Oxytetracycline is a broad-spectrum antibiotic that is believed to exert its antibiotic activity by preventing protein formation. It is well absorbed from the intestine, distributed throughout all tissues, and excreted through feces, urine, and bile. It affects many gram-negative and gram-positive bacteria and is considered the ideal antibiotic in treating chlamydia diseases. Mycoplasma, and it is also used to treat cholera.
The addition of estradiol also provides short-term hormonal treatment with an estrogenic hormone.
Estrogen is considered the hormone responsible for initiating the activation of the menstrual cycle in the animal and causing the necessary changes in the reproductive system, regardless of the functional state of the ovaries, which are necessary to prepare the animal for the process of insemination and fertilization before other major developments caused by progesterone occur.
Estradiol also helps increase the growth of the uterine tube in mammals.
Indications of Tema-Cycline compound Oxytetracycline and Estradiol Tablets:
Broad spectrum antibiotic is used by uterus in acute uterus infections and placenta retention.
Usage and dosage for Tema-Cycline compound Oxytetracycline and Estradiol Tablets:
by uterus:
Cows, horses, and camels:
2-4 tablets for each animal.
sheep:
 0.5-1 tablet for each animal.
repeat the treatment twice daily
 for 3 days.
Withdrawal Period:
for meat :7 days 
for milk: 3 days
Composition:
Each tablet contains:
| | | |
| --- | --- | --- |
| Oxytetracycline HCl | 500 | mg |
| Estradiol benzoate | 0.5 | mg |