Kotrin 50 SC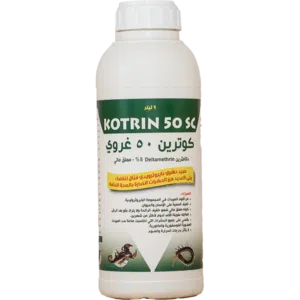 Kotrin 50 EC: Deltamethrin 5% Emulsifiable Concentrate Liquid pesticides for public health
Generic Name:
Deltamethrin
Group:
pesticides for public health
Info:
» One of the most powerful pesticides in the pyrethroid group.
«Light toxic to humans and animals.
» Being an aqueous suspension, it is light-smelling and does not leave stains after spraying.
« Its long-term effectiveness lasts for more than two months.
» It kills all insects that have acquired immunity to organophosphorus and chlorine pesticides.
» It is not affected by temperature and light.
Application and Uses of Kotrin 50 SC:
An effective pyrethroid insecticide to eliminate many insects harmful to public health
Usage rate for Kotrin 50 SC:
It is used in places where insects are found and bred, such as public places, homes, restaurants, offices, laboratories, hospitals, schools, landfills, and animal breeding places .. etc., in order to combat flying and crawling insects such as mosquitoes, flies of all kinds, cockroaches, ants, bed bugs, and others.
Distribute by 50ml/10L of water (1 liter of spray solution covers 25mL) equivalent to 2L/ha
«The bottle must be shaken before use»
Mixing:
Mixable with most pesticides except alkaline ones.