Floracol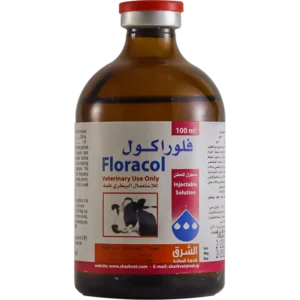 Floracol Injection veterinary
Floracol Injection veterinary (Florfenicol ) for Calf, Cattle / Cows
Indications of Floracol Injection veterinary:
Synthetic broad-spectrum antimicrobials, active against gram-positive and gram-negative bacteria and mycoplasma. It acts by inhibiting bacterial protein formulations. This product is used to treat repertory infections, typhoid, paratyphoid, dysentery, "Escherichia coli", "Escherichia Hemophiles", and foot roots. It is used for cows and calves.
Usage and dosage for Floracol Injection veterinary:
It is used for subcutaneous injection; it is preferred to be given in the neck.
Cows and calves:   10-15ml/100kg b w
(Repeat the dose twice in 48 hours intervals)
Withdrawal Period:
28 days.