Ceftinel 5%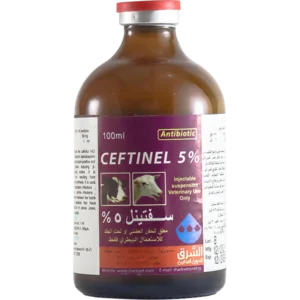 Ceftinel 5% Injection veterinary
Ceftinel 5% Injection veterinary (Ceftiofur HCl) for Calf, Cattle / Cows, Goat, Sheep
Generic Name:
Ceftiofur HCl
Indications of Ceftinel 5% Injection veterinary:
This product contains ceftiofur HCl which is a broad spectrum cephalosporin antibiotic active against gram-positive and gram-negative bacteria including β-lactamase producing strains. It is bactericidal in vitro, resulting from inhibition of cell wall synthesis.
It is used for the treatment of respiratory infection, urinary infection, uterine infections, mastitis, and inflammation between the hoofs that are caused by bacteria that have sensitivity to ceftiofur in cows, calves and sheep, horses and goats.
Usage and dosage for Ceftinel 5% Injection veterinary:
intramuscular injection or subcutaneous injection: 1ml per 50 kg body weight for 3-5 days.
Withdrawal Period:
milk: nil - meat: 3 days.