Bupatex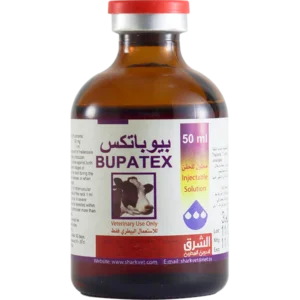 Bupatex Injection veterinary
Bupatex Injection veterinary Antihelmintic (Buparvaquone) for Cattle / Cows

Generic Name:
Buparvaquone
Indications of Bupatex Injection veterinary:
Bupatex is used for the treatment of theilerioses such as East Coast fever, Corridor disease, Tropical theileriosis etc. in cows caused by Theileria Parva (parva), T. Parva (bovis), T. Parva (Lawrence), T. mutans, T. annulata and T.orientalis (sergenti). It is active against both the schizont and piroplasm stages of Theileria and may be used in the incubation period of the disease, or when clinical signs are apparent
Usage and dosage for Bupatex Injection veterinary:
It is given by IM injection and it is recommended to be given into the muscles of the neck.
Dose: 1 ml per 20 kg bodyweight single dose
Anther dose may be administrated after 48-72 hours of the initial injection and it is given in the opposite side of the neck.
Care should be taken to avoid injection through wet or dirty areas of skin. No more than 10ml should be injected into a single site.
Withdrawal Period:
- For meat 	:	42 days.
- For milk 	:	2 days.