Amprosin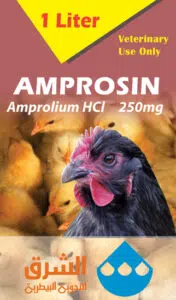 Amprosin Oral Liquid veterinary
Amprosin veterinary  oral liquid (Amprolium HCl) for Ruminants and Poultry
Generic Name:
Amprolium HCl
Indications of Amprosin Oral Liquid veterinary:
This product is a coccidiostat an antiprotozoal agent that acts upon Coccidia parasites.
We use it to prevent coccidia diseases in chicken, growth chicken, layer, mothers flocks, turkey, rabbits and ruminants.
Usage and dosage for Amprosin Oral Liquid veterinary:
For treatment:
Poultry: 200 ml / 200 litres of drinking water for 5-7 days
Ruminants: 1-2 ml / 10 kg b. w. for 5 days.
For prevention: Half of the previous doses.
Withdrawal Period:
3 days.