Ampicillin 20%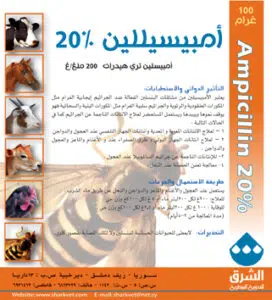 Ampicillin 20% Powder veterinary
Ampicillin 20%: Powder Veterinary for Bees, Ruminants & Poultry
Generic Name:
Ampicillin Trihydrate
Indications of Ampicillin 20% Powder veterinary:
Ampicillin is considered one of the penicillin derivatives which are active against gram-positive bacteria such as staphylococcus pneumococcus and gram-negative bacteria such as gonococcus and meningococcus .it are a bacteriostat and bactericide. The product is used to treat infections caused by bacteria as in the following cases.
1-to treat gastrointestinal and respiratory infections in calves and poultry.
2- to treat urinary and biliary passages infection in sheep, goats,  calves and poultry.
3- to treat infection caused by salmonella bacteria in calves
4- to treat sepsis of bee insulator
Usage and dosage for Ampicillin 20% Powder veterinary:
it is used with drinking water for calves, sheep, Goats, poultry and bee as follow :
For treatment: 200 g /200-litre water or 5g  /100 kg body weight.
For protective: 100 g /200-litre water or 2.5 g/100kg body weight.      
(the treatment continues for3-5 days )
Warring:
do not give it for animal sensitive to penicillin or have renal failure.
Withdrawal Period:
for meat 10 days, for milk 3 days
Composition:
Each 1g contains:
| | | |
| --- | --- | --- |
| Ampicillin Trihydrate | 200 | mg |