Amectin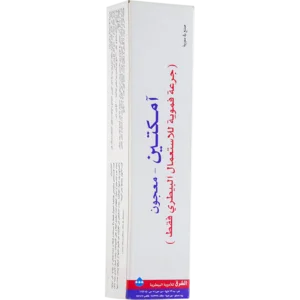 Amectin (Ivermectin paste for horses)
Amectin: Ivermectin paste for horses and foals). It is used to treat parasites in horses of all ages, including pregnant horses, and young foals.
Indications of Amectin (Ivermectin paste for horses):
Amectin contains the active intergrading Ivermectin. It is with paste excipient to be used orally for horses and foals. 
Amectin is used to control larva and adult stages of internal parasites in horses, and roundworms which resist Albendazole derivatives, carotid stages of lungworms, and gastro and Gasterophilus. In general; it is active against large roundworms, small roundworms, lungworms, Oxyuris, Ascaris, gastro worms, gastro threadworms, skin worms, and Gasterophilus.
Usage and dosage for Amectin (Ivermectin paste for horses):
It is used for horses at different ages within or after pregnancy and little foals orally at 0.2 mg/kg b. w.
Each injector contains 120mg of Ivermectin and which is enough to treat 600kg b. w
How to apply: 
Insert the edge of the injector in the space between teeth and rise the horse head for a few seconds after dosing. It is preferred to treat all horses at the same time to get the best result. 
Do not use the same injector to treat different animals unless they are in the same pale. Treat foals when they are 6-8 weeks old.
Warring:
This product is for horses only. 
Do not use it for dogs; it may cause her death. 
Do not smoke or eat while applying the dose. 
Wash hands well after treatment.
Get rid of empty injectors. Burn or earth them and do not throw them near water flows for environmental safety.
Withdrawal Period:
21 days.
Notes:
You can share with us your experiences about this product and the rest of the company's products through our Facebook page in the attached link
images: