Almofid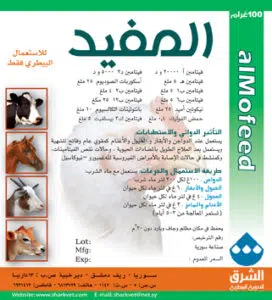 Almofid Vetrianry Feed Additive Powder contains multivitamins. It is for poultry, cows, horses, sheep, and goats.
Generic Name:
Vitamin A + Vitamin D3 + Vitamin E + Sodium ascorbate + Vitamin B1 + Vitamin B2 + Vitamin B6 + Vitamin B12 + Nicotinamide + Calcium pantothenate + Folic acid + Vitamin K3
Indications of Almofid Powder veterinary:
This product is used in poultry, cows, horses, sheep and goats as a general tonic, to increase the appetite, after long treatment by antibiotics, cases of vitamin deficiency and in cases of viruses infection such as Gumboro and Newcastle disease.
Usage and dosage for Almofid Powder veterinary:
it is used with drinking water:
Poultry: 100g per 200 litre
Horses and Cows:  6gr with 1liter for each animal
Calves: 4 gr with 1liter for each animal
Sheep and goats: 3 gr with 1liter for each animal
(The treatment continues for 3-5days)
Composition:
Each 1g contains:
| | | |
| --- | --- | --- |
| Vitamin A | 20000 | IU |
| Vitamin D3 | 5000 | IU |
| Vitamin E | 5 | mg |
| Sodium ascorbate | 25 | mg |
| Vitamin B1 | 5 | mg |
| Vitamin B2 | 4 | mg |
| Vitamin B6 | 5 | mg |
| Vitamin B12 | 25 | mcg |
| Nicotinamide | 25 | mg |
| Calcium pantothenate | 10 | mg |
| Folic acid | 0.4 | mg |
| Vitamin K3 | 5 | mg |